Leaders in these non-profits and businesses have something to say.

Special Olympics Southern California
Biola / Talbot School of Theology
Long Beach Rescue Mission
Southern California Forums
Fluid Communications
Stand to Reason
Digital Spatula
Converj LLC
Pursuant

This is what they're saying...

"Run With It integrated nicely with our project team, enhanced progress we already made, and showed commitment to our special athletes."
-- Monica McDade, Vice President Individual Philanthropy; Special Olympics Southern California

"Under a tight deadline, Run With It improved our online presence and helped us host a successful client-centered event. We have more activity as a direct result of Run With It's ability to connect with potential clients."
-- Johnny Nguyen, Managing Director; Converj LLC

"We were stuck on a few projects before Run With It got involved. Now some critical goals have been successfully accomplished and we are moving in the right direction. Tina's involvement has been the catalyst we needed and I look forward to continuing to work with her."
-- Jim Lewis, President/CEO; Long Beach Rescue Mission

"Tina not only keeps projects skillfully on track, she provides the vision and leadership needed to make them maximally effective. Anyone can bug people about deadlines. Tina goes a giant step further, infusing the project with detailed suggestions that can only make the final product shine with excellence. You absolutely must use her talents!"
-- Scott Klusendorf, President; Life Training Institute

"If you desire effective, reliable implementation of your business strategies Tina from Run With It is your solution.
Tina has the unique skill of maintaining a clear picture of the end goal for any project she has responsibility for and keeps her team focused amidst the inevitable hurdles that can trip up and stall a project. Her ability to understand how initiatives connect to the big picture and your organizations success gives her an essential edge in keeping any team pointed in the right direction."
-- John Norton, Chief Delivery Officer; Fluid Communications

"Tina has a quality not often gifted to project managers, which is the ability to see the overall picture beyond the project itself. She is able to be helpful from the concept stage to implementing the detail levels of projects. In other words, she doesn't just think in subcomponents without realizing how it affects the other parts.
I fully recommend her as an extension of your in-house management team. She is a take charge person who is able to get things done!"
-- Bill Perry, Director of Operations; Southern California Forums

"Having worked with Tina in a nonprofit environment for nearly eight years, I personally saw her manage the development of a number of products and training resources. Starting with the vision we had for the product, she drove the entire process - working with content providers, graphic designers, materials vendors, in-house staff, and distribution outlets - to ensure products were produced and goals were achieved. Each resource ultimately covered its cost; most surpassed that and provided new net revenues we were able to allocate to other important purposes.
I whole-heartedly recommend Tina for your resource development needs."
-- Curt Swindoll, Executive Vice President, Strategy and Integration; Pursuant

"Tina brings the whole package to the task. She is technically proficient, artistically astute, superbly literate, incredibly efficient and productive, filled with integrity, and perhaps most importantly, a real joy with whom to work.
I have worked with hundreds of men and women in marketing, design, broadcasting, and publishing over the years and in my view Tina Thompson is in the top two percent of talented and productive people in the field. I could not recommend her to you or your company more highly."
-- Craig Hazen, Ph.D., Director of Graduate Studies; BIOLA University

"During Tina's eight years, she oversaw the growth of the product department in size and kind of resources produced. This required she research new technology, project future demand for new resources, and create procurement budgets... Her duties were expansive."
-- Greg Koukl, President; Stand to Reason

"I've worked with Tina on multiple large projects over the last 8 or 9 years. As a project coordinator and strategic consultant, Tina oversaw all aspects of our video production projects from concept to distribution. Her expertise in managing budget, timelines and resources was critical in helping every project to not only finish on time and within budget, but above quality expectations."
-- Steve Taylor, Senior Producer/Art Director; Digital Spatula

"Making recordings of my various speaking engagements in the U.S. and abroad available to as wide an audience as possible is critical to my work and ministry. It was therefore important to know that my product orders would always be filled on time and handled in a professional manner. A few of our DVD and CD resources were even compiled and covers designed and then packaged by Tina's team, thereby increasing their visual appeal at my speaking events as well as to online purchasers.
I commend her and her work."
-- Dr. William Lane Craig, Research Professor of Philosophy; Talbot School of Theology

"Working with you during filming was a great experience for me as a producer. Your ability to understand my craft helped tremendously in moving the shoot along while keeping all aspects under control.
My crew and I would work with you any time. It was truly a pleasure, on every level."
-- Steve Clayton, Producer/Director; Re-Focus TV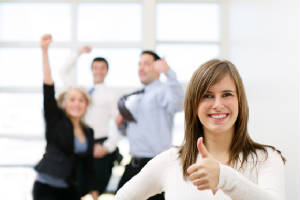 Staff members are also speaking...

"Simply put, Tina Thompson gets things done. She is a gifted project manager. But not only is she organized and timely, her sharp mind enhances the content of any project as well. My collaboration with Tina has moved my projects from good to excellent."
-- Brett Kunkle, Student Impact Director; Stand to Reason

"As our contact person...you have been a great blessing...always helpful with purchases, keeping me informed about expected delivery to our fulfillment center, and consistently going the extra mile by confirming delivery was acceptable.
I appreciate your dedication and can certainly recommend you for developing and implementing the strategies needed in order to reach an important goal."
-- Warren Nozaki, Research Consultant; Christian Research Institute